Calzada de la Presa No. 85, Centro, San Miguel de Allende, Mexico
In a town known for its rich history and colonial architecture, San Miguel de Allende's newest and largest luxury hotel adds a distinctly modern accent to this UNESCO World Heritage city.
San Miguel de Allende has been getting a lot of attention the past few years. And that means more people wanting more and better rooms and restaurants. The Posadas Group heard that call and opened one of their signature Live Aqua Urban Spa Resort properties here in late 2018. Its location on the very edge of the historic center, about a 12-minute walk from the town's main plaza and center of all the action, gives San Miguel's largest luxury hotel room to spread out.
You're greeted at the entrance by an enormous sculpture, "Cabeza Vainilla," by well-known Mexican sculptor Javier Marin. Passing through the heavy carved-wood doors, you see the main restaurant, Zibu Allende on your right. On the left is the bakery, a source of never-ending deliciousness in its pastries and breads. The front desk area looks and feels like a relaxing living room in an exclusive club, with comfortable chairs, coffee-table art books, and colorful Mexican craft touches throughout.
As you move through the sprawling property, hallways, walkways, and stairways lead you through and up and around the spaces, ranging from patios to pool, water features to sun decks, and bar/dining spaces before getting to the guestrooms. The architectural style is hard to describe but easy to enjoy. The developer, AoMa Estudio, based in Mexico City, was faced with the challenge of incorporating an array of abandoned colonial-style pillars and arches from a previously unfinished structure on the site. The developers have combined them with the distinctly modern, cosmopolitan aesthetic of the Live Aqua brand to stunning effect. Water features soften the more modern edges, and the graceful arches invite you to move through the space.
The buildings are sited to maximize the views of the stone dam and mesquite-studded hills immediately behind the hotel. The final result, while not turning its back on San Miguel's colonial heritage, is fresh and sophisticated. The hotel also reflects this city's reputation as a center of artistic ferment. An interior courtyard shows off a large geometrical work by Mexican architectural sculptor Rodrigo Garagarza. Other sculptures, paintings, and photo art are placed strategically and liberally around the property. Together, the pieces give the feeling you're walking through a sort of living gallery.
Many of the 153 guest rooms look out onto various pools and other water features, creating a sense of calm and distance from the city bustle. The rooms are spacious and calming. One of the first things that strikes you as you enter your room is the bathroom. In what seems to be something of a trend in Mexican luxury hotels, it is glass walled and offers a view of the entire room (plus a view of the entire bathroom from the room). You will either love it or find it somewhat disconcerting. There is a door to close off the WC in its own small closet-like space. Most bathrooms feature a separate rain shower next to the tub. As with so much of the rest of the hotel, the custom-designed bathroom tiles fuse traditional Mexican designs with softer colors and a cleaner, more modern feel for a chic, updated look. There are heavy robes and slippers, Molton Brown toiletries, and a yellow rubber ducky to keep you company on the slatted wood toiletries tray that stretches across the roomy tub.
The room décor is muted modern natural, with beamed ceilings, natural wood accents, linen sofas, and glass-topped tables. Walls are adorned with a selection of framed black-and-white photos by local artists. Each room hast a 65" flat TV with 85+ stations, though few of them are in English. There are a few movie stations showing English-language films with Spanish subtitles. A wonderful touch in every room is a turntable with a selection of vintage record albums. My room had Miles Davis and some Cuban artists, among others. A high-tech control panel next to the bed controls lights, heating, and curtains. There is also free WiFi and 24-hour room service.
The mostly king feather beds are dressed with 400 thread count linens. A pillow menu means you can choose exactly the type your head likes best. The room is scented with your own personal scent, chosen from the aroma therapy kits at check-in. The mini-bar is stocked with a range of goodies, from San Pellegrino water to Moët champagne, cheese sticks to Snickers. A coffee maker, music player dock, and plenty of outlets and charging stations round out the rooms' amenities.
As a full-service hotel, Live Aqua has a complete spa, Feel Urban Spa. In its ten treatment rooms—four of them suitable for couples—guests can choose from a menu of specialty massages. The emphasis is on engaging all the senses, with aromatherapy, the sound of water, and soothing flavors. There is also an oxygen room and a full hydrotherapy circuit with a sauna, steam-room, Jacuzzi, and a Swiss shower. The hotel also offers a business center, a 24-hour fitness center, and a beauty salon. Le Caty Boutique is filled with an explosion of design and color in clothing, bags, hats, giftware, and fine craft, all of it from Mexican designers and producers.
Multiple terraces allow for relaxation in hanging hammock chairs, loungers, or tables for drinks and snacks. The long swimming pool is well situated to take advantage of the natural view behind the hotel. Next to it is a kids' wading pool and a colorful kids' lounge, complete with a giant Apple game console, play areas, and tables for crafts, toys and games.
The main on-site dining choice is Zibu Allende, helmed by award-winning chef Eduardo Palazuelos, creator of Mar del Zur in Monterrey and Zibu in Acapulco. His specialty is what he calls Mex-Tai cuisine, a unique fusion of classic Thai and Mexican haute cuisine. The result is a palette-pleasing sensation mixing sweet and savory, spicy and sharp. Some specialties very worth trying are the Sugarcane Shrimp Lollipops with a Mex-Thai sweet-and-sour dipping sauce, the battered Soft Shell Crab Tacos with vegetable kakiage and habanero chile sauce, and the Ceram Fish, a sea bass fillet with an escargots crust sautéed in a ginger butter and accompanied by a white truffle sauce. Two true stand-out desserts you shouldn't miss are the Molcajete of Semi-Amargo Chocolate with pistachio ice cream, dark as sin and twice as rich; and Coconut Ice Cream topped with Strawberries and cajeta and adorned with surprisingly sweet and crisp curls of paper-thin dehydrated carrot. You can eat in the elegant but comfortable dining room or outside in the sunny enclosed courtyard.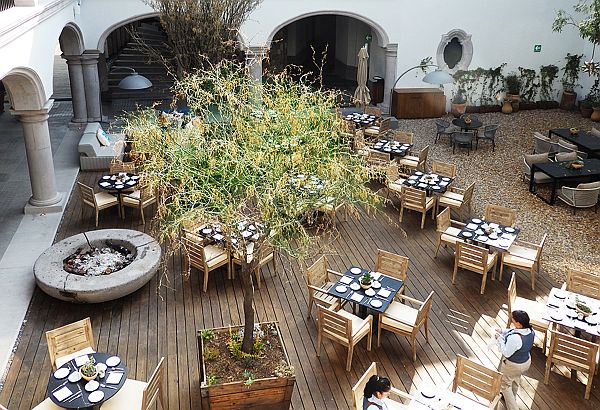 The hotel's other dining venue is Spice Market. Enjoy a lush and lovely room filled with Asian accents or dine on the terrace with an unobstructed sunset view. The menu focuses on the cuisines of Southeast Asia, with an Indian accent and a whiff of Mexico. Once seated, you're presented with a bamboo steamer holding a warm facecloth scented with ginger. Next comes a basket of papadum, the light, crisp Indian bread, and a bowl of tomato/basil/chile jam. You already know you're someplace special. The wide-ranging menu includes things like curries, spring rolls, dim sum, Taiwanese bao, and Indian samosas dipped in Mexican cilantro-yogurt sauce. For dessert, there's chocolate chile ice cream.
For after dinner sipping and smoking, try the second-floor Cigar Room, which also serves up Casa Dragones premium tequilas.
Most of the Live Aqua staff speak English and English menus are available in the restaurants. At the time I visited, the onsite parking garage was still under construction, but private parking was available nearby, with valet service. Taxis and Uber cars are plentiful in San Miguel.
Live Aqua Urban Resort draws a younger, chicer clientele than many San Miguel hotels. It's popular with Mexican weekenders and a growing number of business travelers and looks to become a popular wedding destination as well. If you want to be closer to the action in the Centro, you might prefer L'Otel, just half-a-block from El Jardín, the main plaza. And if the Spanish Colonial style that is a hallmark of San Miguel is calling you, try the Belmond Hotel Casa de Sierra Nevada or the newer Rosewood. But if you love chic sophistication and cosmopolitan service, Live Aqua might be your perfect choice.
Web Address: www.liveaqua.com
Total Number of Rooms: 153
Published rates: $346 to $3115 +10% mandatory service charge and taxes
Review and photos by Donna Meyer.
---
Return to the best luxury hotels in San Miguel del Allende
Return to luxury travel and tours in Mexico