Story and photos by Leslie A. Westbrook
Learning Spanish in Oaxaca is a lot more fun when the food is divine, the accommodations are comfy, and the excursions provide a real sense of place. Mole, mezcal y mas!
Anyone wanting to study or improve their Spanish in Latin America (or Spain, for that matter) knows that trying to sort through the myriad of options can be daunting, especially from a distance. Deciding where to base yourself, what language school to attend, or finding a good teacher to hire—not to mention where to slumber—can feel like quite a gamble.
Language and Luxury, a California company founded several years ago by Richard Phelps, helps people navigate these tasks with ease and makes learning a fun, enjoyable experience. The emphasis on language learning (including others besides Spanish) is combined with interesting cultural excursions that are custom designed with the participant's particular interests in mind. In my case, this included contemporary art galleries and museums; textiles and shopping; visiting markets, and archeological sites. In just a week's time, I accomplished all of this and more.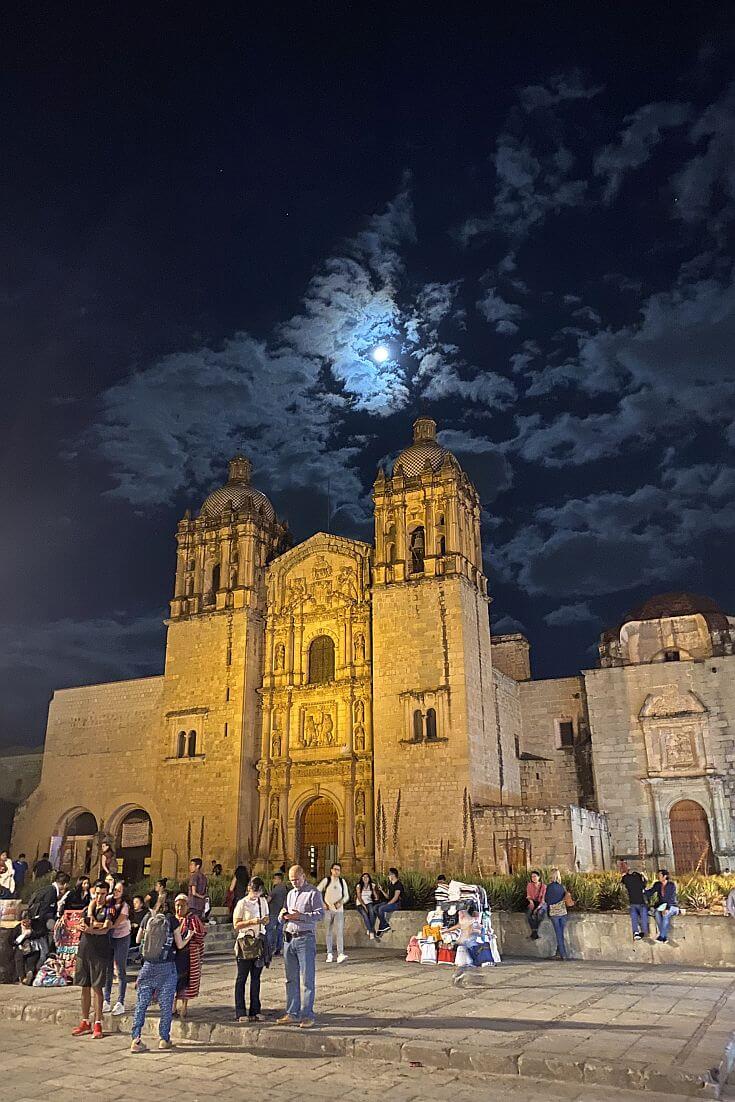 I asked Phelps to devise a plan for a one-week immersion in Oaxaca, Mexico, a city I had longed to explore. My five-day/six-night experience exceeded my expectations. My only regret was that I didn't stay longer. Two weeks or even a month would be ideal for Spanish studies.
Once dates were determined, a simple itinerary arrived via email, with information including my lodgings for the week. (In most cities there is a choice between multiple options, including B&Bs and private homes.) I received the name of the driver who would be collecting me at the airport and be my guide on a mid-week afternoon excursion outside of the city, as well as the schedule for my one-on-one, private lessons that Phelps assured me would be effective.
My Spanish lessons would begin over two hours every morning (9:30 to 11:30 a.m.) and later in the day for an additional 1-2 hours of tutoring and touring through museums, markets, galleries, and more.
All I had to do was show up, commit to my Spanish studies, and do my homework. There was also plenty of time to explore the city on my own, with its shopping opportunities and fantastic restaurants, or even take a siesta in between lessons.
Oaxaca City Arrival
The driver greeted us at Oaxaca's small modern airport, with an electronic display of my name on his cell phone. He took my bags and provided a cheerful and informative narrative to the city en route to our hotel, Las Amantes.
A large bottle of Don Julio Tequila and a nice welcome note greeted me from Language and Luxury's Richard Phelps, as did loud disco sounds from a nearby restaurant that drifted into what appeared to be my windowless room in the middle of the night. Fortunately, the next morning I discovered sliding wooden panel doors that opened into a bright and cheerful interior courtyard that allowed sunlight into my chic and trendy digs for the next five nights.
Las Amantes is part of the changing landscape of Oaxaca: a modern, hip boutique hotel housed in two historic buildings in a fantastic location (a walking only street). It is also conveniently located just a stone's throw from the city's most beautiful Baroque church, Santo Domingo, whose bells would gently awaken me every morning.
I happened to arrive the night before a holiday so the earplugs provided help quell the disco sounds of the 80s from a nearby venue. (I kept waiting for "The Last Dance" to play...). I was reminded more than once that I was staying in the heart, "El Centro," of a bustling historic city. The rest of the week I slumbered much better, only one other night did I hear live music—jazz, thankfully.
A generous continental breakfast, served across the street in the hotel's newly opened annex, was included in my itinerary. Other meals are on your own, which suited me in my quest as a foodie who loves exploring restaurants of my own choice at my own pace. Since Oaxaca is well-known for its culinary offerings—moles, tamales, and mezcal—I booked two restaurants prior to my arrival and asked my Spanish teachers and others for local recommendations.
Day One: Finding My Level
My teacher Erika arrived promptly for the first day's lesson. Cheerful and enthusiastic, she asked if I would like to practice in a café, a park, or in the hotel lobby? I said I'd like to walk, so we began our two hours of Spanish-only conversation exploring the city. We visited the nearby church with its impressive gold leaf interior and viewed the conservation efforts before walking to a lovely small park to "chismear" (gossip) and practice verbs. I was handed three large sheets of paper with useful words (most of which I knew)—verbs, adjectives and conjugations—which I referred to often over the ensuing week.
An hour later, we walked and continued exploring while conversing along the way in Spanish. We stopped into a graphic print shop collective; I also needed to go to a bank to exchange dollars for pesos. The first two hours passed quickly with Ericka.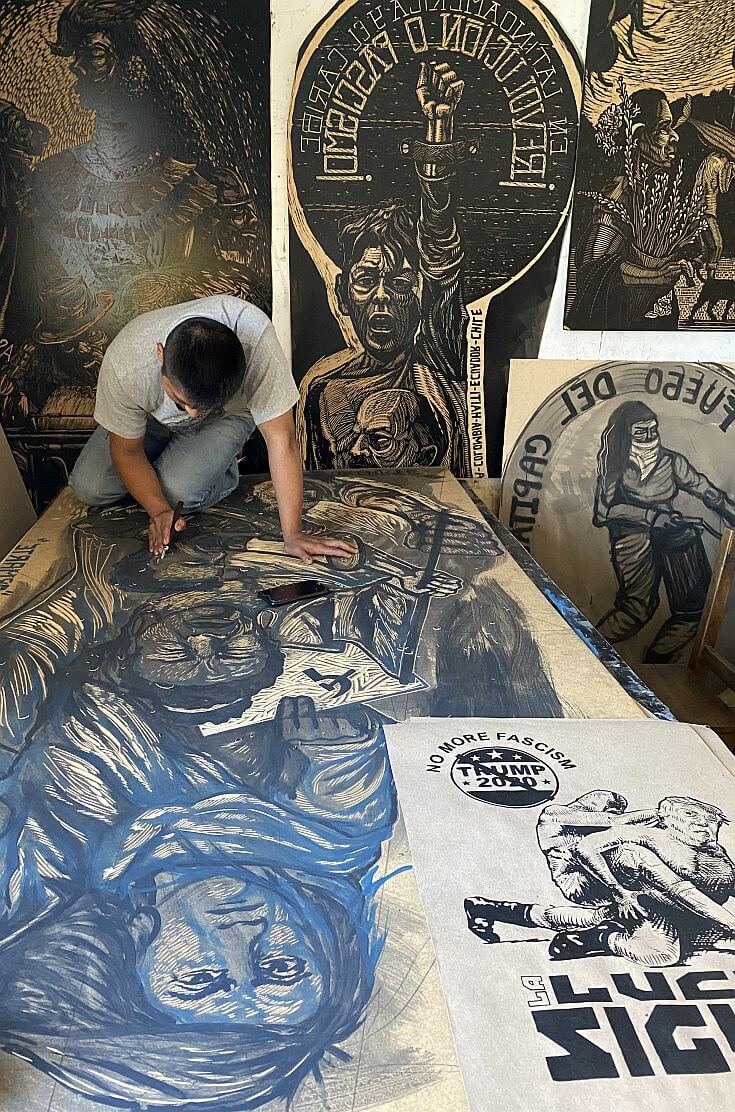 I was meeting friends for lunch at Boulange (we would go there another morning first thing for an amazing breakfast), but the line was long and the wait 25 minutes. So we happened upon a great nearby place that was an excellent discovery: a vegan organic restaurant with delicious food, a lovely interior courtyard, and easy prices. I had soup and my companions had enchiladas. The food was light, fresh and delicious. We determined that we would happily return to Hierba Dulce if there weren't so many other places we wanted to try.
After a few shopping stops after lunch to admire the textiles, ceramics, and other fine artisan crafts the region is well known for, it was time to meet Erica's sister Karina for my afternoon excursion and practice.
Museums and Markets in Oaxaca
Karina and I began at the lovely Rodolfo Tamayo Museum that showcases the revered artist's vast and fascinating pre-Colombian ceramics collection set in a series of colorful rooms in a historic 18th-century building. My "maestro," a well-informed art historian with a master's degree in Art earned in Mexico City, brought the objects to life that Tamayo and his wife collected over a twenty-year period and donated to the city. We discussed the meanings behind some of the more interesting ecstatic figurines, both in English and Spanish. Because our next planned stop, the Contemporary Art Museum was closed (it was a holiday), we decided to walk to the zocalo where children danced with colorful globos from the balloon sellers in front of Oaxaca's main Cathedral. We even had time to visit the colorful and lively mercado—always one of my favorite places to visit in any city around the world.
The Oaxaca market was a feast of sights, smells and colors. We stopped and rested our feet for a refreshing mix of snow cone-like ices: vanilla and one called tuna (a cactus fruit) that was the color of watermelon. The owner told us (en Español) that he had been selling here for 200 years!
"How is that possible?" I teased, also in Spanish, adding that he looked very young, which elicited a belly laugh!
We strolled past Oaxacan women selling oversized tortillas called tlayudas and herbs from the countryside along with stacks of insects like ants and grasshoppers (the Oaxaqueños love these crunchy insects!) woven into the tapestry of colorful displays of mezcal and fruit. A smoky section with kiosks of thinly pounded beef being grilled over hot coals with vegetables was muy popular with families dining at shared tables. We also visited traditional chocolate millers where we sampled the different varieties of chocolate used for Oaxaca's famous moles. After my first fascinating introduction to this changing city, I was excited to see what my excellent guide would have in store for future excursions!
Over wine, cocktails and a light bite at Las Amantes rooftop bar and restaurant, a friend and I shared stories about our adventures of the day and enjoyed the company of a bilingual local artist who was rather baracho (drunk) yet managed to provide the names of a couple of restaurants he insisted we visit including one—Las Quince Letras—that turned out to be one of our favorites.